Age-Related Macular Degeneration
Age-Related Macular Degeneration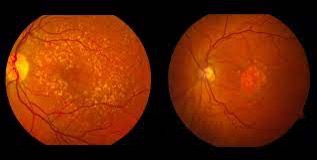 Macular degeneration is a deterioration of the retina that leads to loss of central vision. Macular degeneration is the leading cause of visual acuity loss in people over the age of 65 in the developed world. The exact cause of macular degeneration is unknown, but age appears to be the primary factor. When macular degeneration occurs in younger individuals, there may be a genetic component. The specific part of the retina targeted by macular degeneration is the pigment layer under the retina, the retinal pigment epithelium (RPE). This layer supplies nutrients and removes waste material from the photoreceptor rods and cones above the RPE. The RPE has very little capacity for repair or replacement. Slowly progressive loss of the RPE leads to macular degeneration.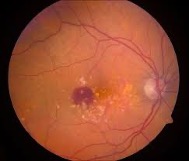 In the early stages of macular degeneration deposits called drusen form from the accumulation of waste material secreted by the RPE. The RPE becomes thin and loses pigment in a process called geographic atrophy resulting in a blind spot. These changes are all part of dry macular degeneration.
Wet macular degeneration refers to the growth of abnormal blood vessels beneath the RPE resulting in leakage of fluid and bleeding under the retina. This can result in sudden decrease in vision. Fluorescein angiography can be used the visualize the abnormal vessels beneath the retina. Ocular Coherence Tomography is essential in detecting leakage and monitoring its progress.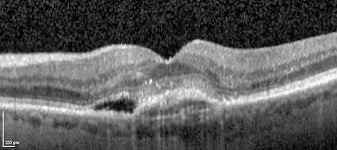 The treatment and prognosis for wet macular degeneration has been revolutionized in recent years with the discovery of vascular endothelial growth factor (VEGF). VEGF regulates the growth of abnormal blood vessels in the eye, resulting in leakage and bleeding. Anti-VEGF drugs have been developed which are highly effective in stopping leakage and bleeding from abnormal vessels. We now have a number of drugs that are effective against VEGF. They must be injected into the eye in an office procedure under local anesthesia. The injections need to be repeated every 1-2 months, but in some cases treatment can be extended to 3-4 months. These treatments stabilize and improve vision in many patients.
No current treatment can prevent loss of vision from geographic atrophy, the advanced form of dry macular degeneration. However, the Age-Related Eye Disease Study, conducted by the National Eye Institute, showed that a combination of anti-oxidant vitamins and minerals may delay and prevent early-stage dry macular degeneration from progressing to the advanced form. The AREDS-II supplement formula is available over the counter. Your eye care provider can advise you whether these supplements are appropriate for you.