Macular Hole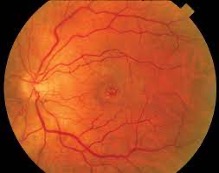 The macula is a small area in the center of the retina which has the highest visual sensitivity. The central part of the macula is quite thin to allow light to be focused directly on the photoreceptors. The vitreous gel is firmly adherent over the macula and may stretch the retina leading to the formation of a macular hole. The majority of cases develop spontaneously without obvious cause. High myopia (nearsightedness), ocular trauma, retinal detachment and epiretinal membrane may also lead to the formation of a macular hole. Optical coherence tomography is essential for the diagnosis, staging and management of macular holes.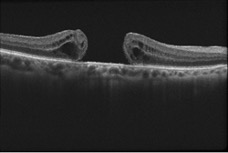 There are two types of macular holes: Partial or lamellar and complete. Patients with lamellar macular holes typically have good vision and don't require treatment. A lamellar hole, however, may progress to a complete macular hole. Treatment of a macular hole requires surgery. A vitrectomy is performed where the vitreous gel is completely removed, including all attachments to the macula. The vitreous gel is replaced with a gas bubble which remains in the eye for 10-14 days. The patient must position face down for 48 hours after the surgery. The success rate of this surgery is over 90%. The main complication of the surgery is the
development of cataract.